When and where
U:Time Festival '22 takes place on 1st October 2022.
Doors open at 1:30 PM, with Mitch Tonta in The Tent from 2:00 PM and Munchy Dolphin in The Bandroom starting at 2:15 PM. But feel free to come in early — the main pub is open! — kick back, have a couple beers and chill to some amazing house music while you wait!
U:Time Festival '22 is accessible via car, train and bus.
Located this year at Hotel Westwood, find your way to U:Time at
28 Napier St, Footscray VIC 3011
(
get directions
).
Enter through Hotel Westwood on the Whitehall St doors, and head straight to The Bandroom (through the deck).
At last, you got a map! Press to look at it!
Hotel Westwood is accessible via PTV — a 7-minute walk from Footscray Station, or the route 220 bus from the city to Sunshine Station.
Limited parking is available, so consider public transport options to get to the venue.
Yes! Limited parking spaces mean you'll want to get dropped off at U:Time Festival.
Festival Map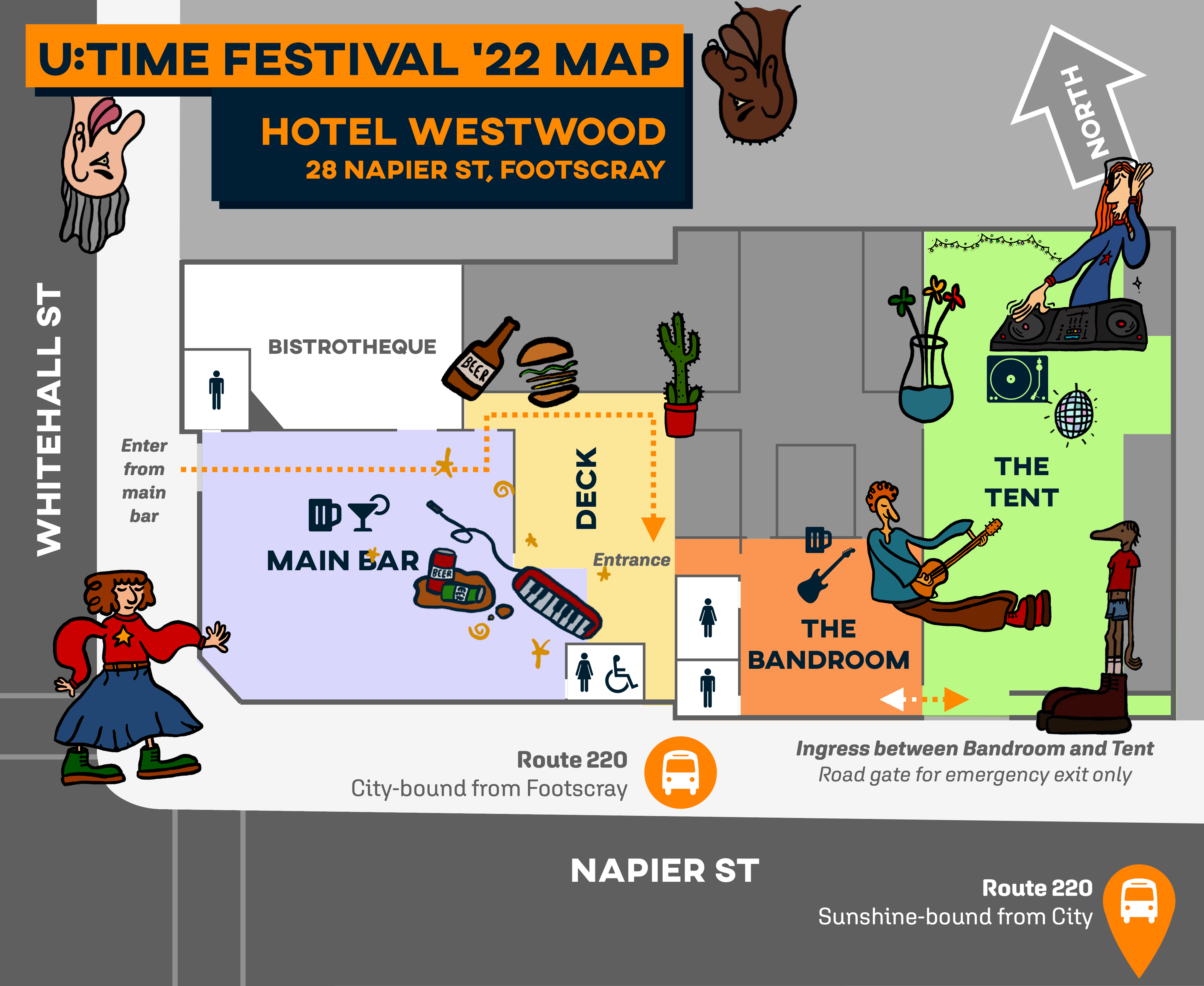 Tickets
Yes, we will sell a limited number of tickets at the doors. However, if you want to guarantee your spot at U:Time, we strongly urge you to pre-purchase tickets online!
Please note that sales at the door are card-only.
Tickets may be purchased online using most credit/debit cards or using your PayPal account. Credit, debit or EFTPOS cards will be accepted at the doors, but cash will not be accepted.
Please note that EFTPOS cards without a chip cannot be used to make purchases at Hotel Westwood.
You must be 18 or older to attend U:Time Festival '22.
No; the more the merrier!
What to bring
Yes, food will be available at this year's U:Time Festival! Courtesy of Goldieboy Burger Co., dinner is sorted at U:Time Festival '22! Various burgers, including vegetarian and vegan options, will be available!
You are permitted to bring food to U:Time Festival. As Hotel Westwood is a licensed venue, various drinks, including some amazing cocktails, will be available at the main bar.
Hotel Westwood is not a BYO venue, so alcohol cannot be entered into the premises.
At U:Time Festival
The venue will check standard forms of identification for entry to the premises. This includes an Australian state-issued or international drivers' licence, Keypass (physical or digital), proof-of-age card, or passport.
U:Time Festival's doors open at 1:30 PM. The main venue will be open for food, drinks, and a hang by the fireplace at 12 PM.
Bands in The Bandroom
| | |
| --- | --- |
| 2:15 PM | Munchy Dolphin |
| 3:00 PM | Des Cortez |
| 3:55 PM | Crust |
| 4:50 PM | Hey Spiro! |
| 5:45 PM | Champ Ruby |
| 6:40 PM | The Vovos |
| 7:35 PM | Foam St |
| 8:30 PM | Speed Mullet |
| 9:20 PM | Good Sniff |
| 10:15 PM | Stimpies |
DJs at The Tent
| | |
| --- | --- |
| 2:00 PM | Mitch Tonta |
| 4:00 PM | Sloth|Reinn |
| 5:30 PM | Gru and the Minions |
| 8:00 PM | Fraser |
| 10:30 PM | OnlyWithYou |
| 11:00 PM | Stewi |
Arrangements may be made for patrons with accessibility needs.
If you require particular accommodations, please get in touch with us at [email protected].
Hotel Westwood only accepts card for purchases in-venue. Be sure to bring a debit, credit or EFTPOS card for purchasing food, drinks or tickets at U:Time Festival '22.